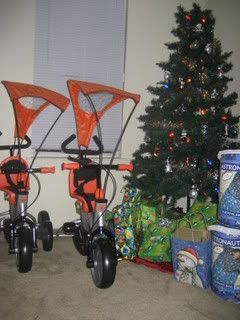 Since NS had to work all day on the day, Christmas for us and the boys was moved up to the 24th. I'm thinking more and more that it's a great idea to spread this holiday out over a few days;>

That picture was taken before I dragged NS's snowboard out because it was hidden in our closet, which meant I had to wait until he was asleep. I seriously considered not dragging it out to be on display and then pretending to remember one other gift in our closet after he'd opened his couple of books and laptop cooler. But, you know, Christmas stuff happens in the morning, and mornings aren't my prime time for cognitive abilities, so I thought my acting would not be very convincing and opted for the initial shock value afterall.

The boys received tricycles (those orange contraptions pictured), although both of which are missing a piece, a different piece on each, too...guess quality control isn't a primary focus for that company. They also received Leap Frog Word Whammer and Fridge DJ, two of each...the amount of magnetic letters we now possess is a little out of control. A Duplo Thomas the Train set for M and a limited edition bucket of Duplos for J, which were quite promptly split between the two Duplo zoo sets they received for their birthday. Sleeping bags with an astronaut theme since they refuse to sleep in those awesome beds Mommy wasted so many hours on searching and reviewing. Per M's last-minute request for Santa to bring airplanes, NS and I tracked down some matchbox airplane sets at ToysRUs, and my mom and her husband found a cute airport set at Kmart. More than a few Backyardigans toys were included in their loot...we now all know Pablo's pirate song very, very well;> Clothes, socks, underwear, battery-operated toothbrushes, doctor set, fishing set for bathtime, Doodle Pros and Travel Doodle Pros, Nerf rocket-looking footballs, a couple books, and I'm sure a multitude of other toys and gadgets that I've failed to include in this list. We'll just say they're not lacking for any toys or entertainment.

Big Dog got a blanket to lounge on along with several different treats and a container for those treats. Marmaduke got some living plants and a new cave-like thing to swim through and sleep on to replace his column.

Not all my presents arrived before Christmas, but that doesn't bother me in the least...again, I think this present-giving holiday should be stretched out over more than a day anyway;> I was able to open a lot of snowboarding gear: jacket, pants, socks, undergarments, gloves with liners, a stomp pad (the maroon floral) that beautifully matches my snowboard (the 146), goggles. So, I'm pretty sure the only thing I still need to be totally prepared is boots;>

My mom and her husband got me a gorgeous jewelry box that I just barely have room for on my nightstand, an ornament that will hold much sentimental value as the years pass since it is an angel with Baby Angel's name and birthdate engraved on it, several pretty shirts, pajamas, earrings, a necklace, lip glosses, cash, and very likely more things. Other family members contributed a book, a frame, candle and body butter, stocking holders for next Christmas, Target gift card, cash. Guess we'll say I'm not lacking for anything right now, either;>

The celebration lasted from Saturday to Monday night, and it was fantastic.