I had planned to take M and J to the Neptune Festival this morning to see what kind of booths they had set up with artists and food and such as well as the sandsculpting competition. It did not start out to be a good day, weather-wise. It was drizzling off and on during our whole drive and even as we pulled into a parking space, but it cleared up within an hour of us being there. We ate some DQ to kill a lot of that overcast hour;>

M eating his cup of soft-serve, which he found to be very yummy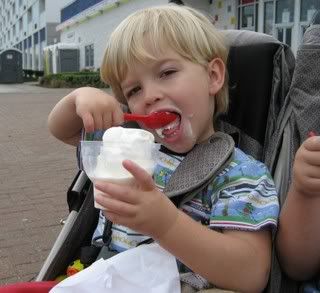 J enjoying his treat, which resulted in an ice-cream mustache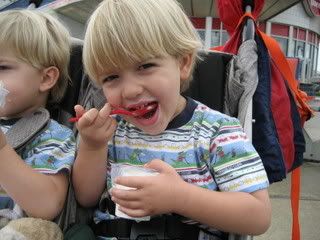 I'm pretty sure we missed the actual sandsculpting competition, but there was some remains of the effort left for viewing. There was a sign that said the record was broken with this accomplishment, which is 37'9" tall.




It was truly an amazing site to see. There were turtles, a starfish and a sandollar, seahorses, a giant ray, and an almost equally large fish...along with a lot of other details that you might be able to see in the pictures.

While I was waiting to snap shots of the sand wonder, some chic with a sash (there were a lot of them, and I'm not sure what the sashes said, but probably had something to do with the Neptune Festival if I had to guess) gave M and J metallic beaded necklaces. M got to work putting his necklace on his ducky while J dolled up his Nemo. The results...

A rather darling ducky



And a quite lovable Nemo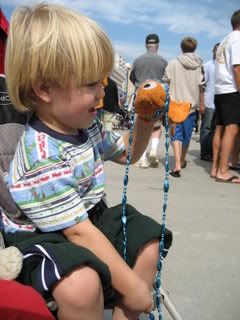 J was caught giving himself metallic blue eyes, and then they started tangling themselves into the necklaces. I was also instructed to take puppy's picture as well as Nemo's. And, even though the day didn't start out looking like we would be able to have any fun here, it was a good time.