I bought a "new to me" vehicle last night, a 2003 Acura MDX. I absolutely love it. It has all the bells and whistles and didn't cost me an arm and a leg...or even one of those limbs.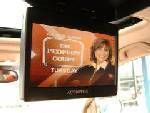 The price was almost too good to be true (about $4,000 below KBB and/or NADA value) without having to haggle. I was offered the highest price I'd hoped to receive for my trade even though I'd revealed a range of what I'd be happy getting for it. The interest rate for the financing, while horrible, was in the ballpark of my expectations considering how the previous year and half's events severely damaged my credit rating, and so my monthly payment ended up in the lower end of my span of affordability for this car. All of that and the people at this location were a pleasure to deal with and very helpful, even complying with my request to take their vehicle home with me Tuesday night to make sure I really liked it, although I left them with nothing other than my information...no trade-in vehicle and no money.

So, I left the dealership last night feeling like I'd gotten a hell of a bargain but also feeling a little bit like I must have missed something since I didn't have to play any negotiation-tactic games or fight for what I wanted at all...that's kind of sad, isn't it?