Yesterday, I left a little before 11am to go to BJ's with my boys. I figured we'd grab something for lunch on the way before we went shopping. On the drive over, I notice the traffic jam on the other side of the road...the way we'll be driving back home later. I have never seen so many cars on the road when there isn't a natural disaster looming or one hasn't just passed. The backup lasted for miles...approximately 6 or 7 miles, actually. What would cause such a traffic-flow catastrophe...one that is still there two hours later after I've had a drawn-out lunch with my boys and taken a leisurely shopping trip? Why, road work, of course! Road work that has blocked a lane through the bridge tunnel. So, the normal travel time for this trip is about 30 minutes but took us close to four and a half hours this afternoon. Do they realize where else I could have gone in four and a half hours?!? Traveling in another direction, I would have been able to leave the state either north or south in 2-3 hours. As I finally see the work being done in the tunnel, I truly wonder if it was necessary to block the lane in the middle of the day, let alone the whole weekend that is scheduled. I didn't see damage to the road nor did the work seem to be of any significant nature that it couldn't have been spread out over the week, working only during the late night/crack-of-dawn hours. But on the bright side, I got to capture some priceless moments of my boys;>

J felt it necessary to smear Oreo crumbs all over his face.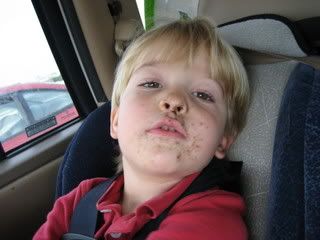 M managed to stay a bit cleaner.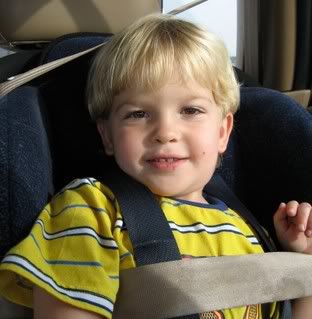 Guess he decided he needed to stretch his legs a bit.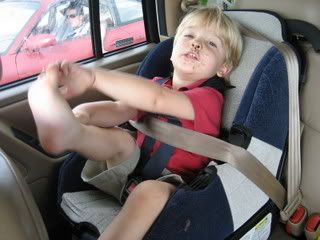 He daydreamed out the window instead.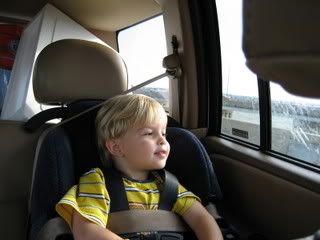 If you'd been trapped in a car, especially on a bridge, for that long, you'd be delirious, too.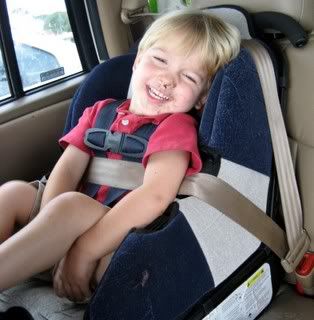 His animals even plotted an attack on his head.