Sorry for the lack of posting;>

I guess I'll start with dinner at Ruth's Chris. It was awesome. And although very pricey, not at all disappointing like the experiences I've had at Charley's.

The day after that, last Sunday, not yesterday, we all (all being me, M and J, NS, his mom, dad, sister and sister's friend) went to the Virginia Living Museum. This was quite fun for the boys. J especially loved finding the orange circles posted on the trees along the nature-walk and really didn't want to believe that he'd seen them all;>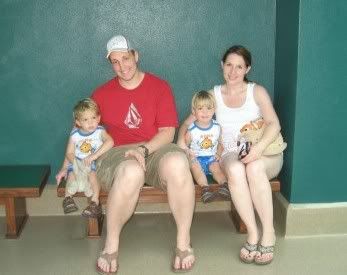 Afterwards, we all met up with one of NS's friends for dinner at Cheddars...mmmmm, I love that place. We had to wait quite a while for a table since there were 9 of us and the hostess didn't bother to use the paging system to call us when they first had a table since they didn't see us and thought we'd left...kind of thought having a paging system (which they did use for other people as we heard it while waiting outside on the patio) was to call people when you couldn't see them. M and J hadn't napped that day and were a bit wound up and easily upset, not to mention hungry, by the time we sat down, but as soon as the food got to the table, they calmed down long enough for us to have a good meal.

I really like NS's family. I had a lot of fun hanging out with them over the weekend, and I know that both his sister and mom made comments about my fitting in well;>

Couple of new ideas have been brought up by NS. He is going to try to move in with me this month instead of later. Currently, NS lives with two other Navy guys. The lease for the house is up at the end of the month. None of them are renewing since two of the three (not NS) are getting out soon. NS had made arrangements before I knew I was pregnant to share an apartment with another guy from his boat. He was going to move in long enough to give him a chance to find a replacement and then move in with me. But, one of NS's current roommates only has a couple months left in the Navy and was just going to crash on the couch at the new place, so as long as that guy agrees to take NS's place at the new place instead of just crashing on the couch, then NS will be moving in this month instead of later. I'm pretty excited about that...and also a little nervous, too. Second idea is a possible transfer to Hawaii after he gets back from deployment, which will be around a year and half from now. After his checking into cost of living and how the Navy helps with that, I'm actually thinking it sounds like an amazing idea. I cannot imagine being unhappy there other than being far away from family and friends, but at least I'd have a great place for them to have an excuse to visit;> My mom is going to have a hard time with that idea seeing as she's already worried about NS getting transferred somewhere. I love living near her, but I don't really want to stay in VA anymore. It really hit me once I started trying to find jobs and looked at houses. The job market and income levels in this area are miserable for the housing prices...and it really frustrates me. And it just seems like more and more cities/neighborhoods are becoming "not good" places to live, and the ones that are good are not the ones I'd be able to afford to buy in, so it seems kind of like having to settle for less when I really shouldn't have to and don't want to. There are other places where this isn't as much of a problem; I just wish my mom would be willing to move instead of wanting me to stay here. Anyway, I'm not going to even mention the idea until it is actually possible or beginning to be planned. After looking at the stuff about Hawaii, I think it could actually be the perfect place for me. I could start my whale-watching tour business there when I'm ready, the temperatures are always moderate (ranging from 68-85, I believe), the beaches and scenary are gorgeous, and it's an island (the laid-back island life just seems to be something I've been drawn to for a long time). I did tell NS that we would have to visit there before we could decide to move there, though;>

This past weekend was rough for me and boys. They refused to actually fall asleep for naps, so they were very, very cranky and a little too hyper; even NS commented about how different they were acting yesterday just due to being overly tired. I didn't even get to shower yesterday until after they were in bed for the night because I desperately needed a nap and slept through the only 30-minute span of time that they were in their beds (although not sleeping) before they could not stay in their room playing nicely. But on a funnier, more embarrassing, how-in-the-hell-can-I-keep-that-from-happening-ever-again note, the boys walked in on NS and me in a compromising position Saturday morning. While they did not seem to notice the awkwardness of the moment or care in the least, we were a little freaked by the incident, especially since the door had been closed. J seems to be quite capable of opening doors when he really wants to. I think I'm going to have to start closing the door regularly and making my bedroom a little more off-limits, but I'm afraid that's going to lead to some major adjustments for them, which may be hard to handle because they aren't exactly thrilled about the idea of not being able to get to mommy when they want to.

And the last new thing I can think of is that M and J are going to be getting big boy beds for the new apartment. No more cribs or cribs transformed into toddler beds. I'm hoping they get here by this weekend, but I'm starting to realize it probably won't happen, which means I may have to put off the official move to the new apartment or have them sleep on just the mattress or the inflatable travel beds I have for them until they arrive. These are the beds, which look like so much fun to me, and they've got great storage, too! I think they will be just perfect to get them through to the age of about 6, when I will probably get them some bunk beds.