Appointment today went well. I was right about how far along I was...guess I'm pretty in-tune with my body now;> The ultrasound dates me at just over 14.5 to nearly 15 weeks, and I had thought I was in the 14-15 week range. This gives me a due date of January 16th, but since it is very likely I'll be having a planned c-section again, chances are likely that baby will be delivered, at the latest, within a week of that and definitely not going past that...they really try to avoid having women planning c-sections go into labor, too many possibilities for complications that way. Kind of funny that my boys share a birthday with my stepdad, and this one will be very close to the birthdays of both my stepsister (1/18) and NS's sister (1/20). NS was pretty happy about the experience this morning and is pretty excited as is his mom. We didn't get to hear the heartbeat like I thought, but that should definitely happen at the next appointment and all the ones after that.

Here are the blurry ultrasound pics from this morning...

First is just a head and body side-view (actually they're all side-views)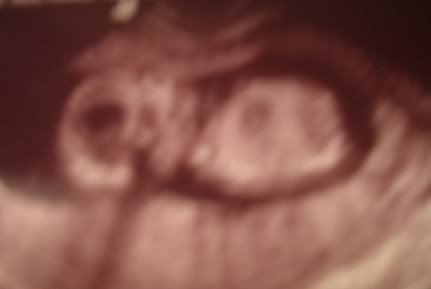 Next is what I call the "chicken-leg shot"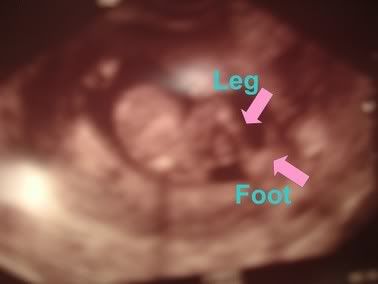 And last is the cute little profile shot with a hand (it is much clearer in person)